SOUNDSHAPER NEWS
SOUNDSHAPER 5.09: revised version of 5.08
Version 5.09 (Oct. 2021), a revised version of Soundshaper 5.08, is now available for download.
This fixes some bugs in 5.08.
Version 5.08/09: the most obvious change in these versions is that most sub-menus have been replaced by new pop-up (context) menus: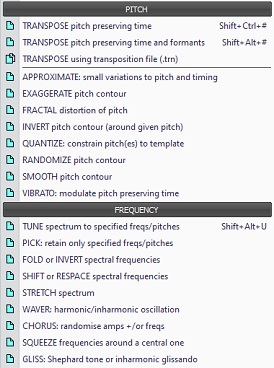 The new MENU button in the toolbar (below "Pitch Data" in the screenshot) recalls the most recent menu (Shortcut: Shift+Ctrl+Z). These menus also have easily-remembered keyboard shortcuts: largely Shift+Ctrl+[initial] for Soundfiles and Ctrl+Alt+[initial] for Spectral and Synth.
Each menu item now has a brief descriptor, so that users can compare the different items in the menu. Clicking on the black header "item" normally brings up a short message describing the group as a whole.

Next to the MENU button, a standard REDO-style button replaces the old two-quavers one for recalling the last-used process. This is not quite a re-do, but does visit the last parameter page for possible revisions, especially following CANCEL or CDP errors.

In addition to the new menus, several CDP functions are now grouped together or are merged to share the same parameter page. For example, ZIG-ZAG is grouped with its multichannel equivalent MCHZIG and ITERATE with the multichannel MCHITER. Grouped processes are selected at the bottom of the parameter pages: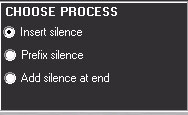 An example of a merger is
CYCFREQ
(Wavesets menu), which combines CDP's distort multiply, divide, harmonic and fractal on a single page. Merged functions have a new identity within Soundshaper, but the old one has been retained, so that user patches will still run as before. Also, the original single menu item is still listed in a new
LEGACY
menu (under XTRA), so that any preset collections can still be accessed.
For a full list of process-menu items and how they relate to CDP programs, see the supplied textfile Menu-Map.txt in Soundshaper5\DOCS. Full details of the changes in Soundshaper 5.08/5.09 can be found in NEW5.09.txt, also in \DOCS.
The Spectral PITCH menu in the screenshot has some new composite items, derived from Pitch Data functions: pitch quantize, approximate, exaggerate, etc. These can now be processed from a soundfile input, like all spectral processes, though unfortunately the input must be mono at present. (These composites use default values to convert .ana files to .frq and .for. The original processes are still available in the Pitch Data menu.)
The Menu changes have been prompted by the forthcoming CDP Release 8. If simply added to the old menus, the new items would swamp the menus and make it very difficult for users to distinguish one process from another. CDP seldom deprecates older functions, which is fine, but subtle variations between similar processes can be bewildering. "Wizard" pages offering initial choices might be one solution, but a quicker fix seemed to be new menus and grouped or merged processes.
* * * * * * * * * * * *
Soundshaper 5.0 was a step-change for Soundshaper and CDP. The built-in sound player is derived from the established BASS Audio Library and opens up many possibilities for easy editing and sound transformation, with support for processing segments within the sound. New multi-layered cell-patches allow whole process chains to be treated as a single object within a higher-level patch and recalled instantly from the Patches List. The revised Process List now saves your favourite parameter settings for easy recall of CDP processes when building a patch.
New in Soundshaper 5:
Re-designed Main Page: see screenshot. Clearer layout, improved menus and shortcuts.


Built-in streaming soundfile player/viewer: drag loop-points, copy loops to markers or markers to loops, play from a choice of positions. Play spectral files (as .wav).


Process part of file at loop-points or markers. Preview result in context before confirming. Send loop or marker times to parameter pages.


Multi-layered Patches: run chains of processes as a single process. Cells can now contain sub-patches or sub-sub-patches, etc. Save the new patch and run this in a single cell. Re-use cell-patches more than once within a patch.


Process List supports single presets: save your process settings and recall instantly from Process List, or by drag and drop. Easily load lists of process variants.


Patchgrid extended: support for up to 99 cells per row (recommended default now 16 columns and 8-10 rows).


Improved file-saving: Save Panel opens after process for quick saving. Cell data now displays saved filename.


Run User-scripts: basic provision for running user's own batch files (NEW 5.02).


CSOUND: run Csound synthesis and sound-processing scripts (NEW 5.03, revised 5.04).


Synth patches: a synthesis process can now be saved as or within a patch, includig Csound synthesis (NEW 5.04).


Online Docs: CDP online documentation can be accessed from Soundshaper (NEW 5.04).
Technical note: Windows XP is no longer supported. (Soundshaper makes use of a feature which was not introduced until Windows Vista.) Contact Ensemble Software if you need help with this.
WARNING! FOLDER NAMES IN SOUNDSHAPER
MAY 11, 2021: Recently a new Soundshaper user reported that source files would not load and he traced the problem to special characters in the folder-name, which was the Portugese for "Applications". This has been confirmed by setting up CDP and Soundshaper within a similarly named folder.
While the underlying cause of the problem is being investigated, users should stick to Roman-alphabet characters (as used in English) when naming folders (and possibly also files), namely: a-z (lower or upper case) and numbers 0-9.
FUTURE DEVELOPMENTS
CDP Release 8: work is in progress to prepare Soundshaper for forthcoming CDP new programs.
Develop the player to allow zoom, show channels separately, and possibly mixing, etc.
Revise Parameter Pages to display the soundfile viewer, including preview and better integration with automation.
Improved capture of markers to correct timesfile format for various processes.
Port to other platforms: as time permits, Soundshaper will be compiled as native 64-bit in a MAC-compatible form and ported to the MAC. A basic MAC version is likely to be released first of all. A version for Linux is also a possibility.
Scripting: further investigate running alternative scripts, including PowerShell and Tabula Vigilans. CDP for Python is another priority.
SOUNDSHAPER MANUAL
The Soundshaper HELP manual (in HTML) is now up-to-date for Soundshaper 5.09.
Changes in 4.6 and 5.0 are also documented in the Soundshaper \DOCS folder. See the Downloads Page.
CDP REVISIONS
CDP Release 7.1 was released in July 2016. No new functions have been introduced, but all programs have been re-compiled. Download the latest versions here: CDP Downloads
CDP Documentation is now available online: CDP Docs Home Page.
You can also download PDF versions of the main docs here.
CDP USERS' FORUM
If you are running CDP and haven't yet joined the CDP Users' Forum, you can do so here: CDP Users' Forum
The forum is a great place to share ideas, news and information about CDP.
NEW FEATURES IN RECENT VERSIONS
Version 4.6 (Oct 2018)
Support for 18 new skinned styles, including some dark themes.
Merger of two parameter pages into one. Parameters now in pairs (1,2; 3,4; etc.) rather than columns.
More flexible saving of processed files.
Version 4.5 (June 2017 to Mar 2018)
Cell-Patches: run a patch within a single cell. Create 2nd-level patches.
Drag+Drop for parameter files: easy selection of favourite processes (and parameters).
Mix Page: extensive revision and bug fixes.
Quick-help docs: now available for all CDP processes, on Main and Parameter pages.
Bugfixes in: GRAIN ALIGN, OVERWRITE, SHUDDER, ANALJOIN, OCTVU, PEAKAMP, SPECPRINT.
Version 4.4 (Sep. 2015 to May 2016)
Soundshaper is now freeware: PRO and LITE versions discontinued; registration now unsupported.
Major code revisions: internally, extensive overhaul of code in preparation for possible MAC / Linux port.
Play pitch files: the pitch found by GETPITCH (.frq or .pch) now playable via transport (4.4.05)
Project Folder: optionally nominate a current Project Folder in Settings. (4.4.04)
Folder to Pool: all CDP files in selected folder are placed in Pool. (Menu item and new button: 4.4.04)
Add Files to Pool (checkbox): if checked, pool files are added to the existing Pool, instead of replacing them.
New scripts: scripts natively support mono/stereo/multi-channel input and include auto-file conversion and interleaving as required.
(Internally, scripts can now easily be adapted to make Bash versions for Linux/OS X development.)
Multiple parameter sets: provision updated – most processes now support multiple parameter sets for stereo / m-c input.
Bulk Processing: copies sources from the Pool list and processes a row with each of them.
(A more versatile method will be introduced in 4.5 using Cell Patches: see below.)
PREMIX: Mix-menu item for use with e.g. Mixmany or Mixtwo. Sets level, pan and pre-delay for each sound.
Save Patches without sources (optional): saves disk space, making patches more versatile. On loading, supply the source(s) as required.
Mix Page overhauled: select sources on Main or Mix Page.
Synth output becomes new source (in current row). Parameters now re-editable as normal.
Revised History function: full details of parameters and processes and parameters now saved.
.env and .pch: support for .env and .pch file extensions for envelope and frequency breakpoint files.
Process Grids updated for CDP7. Menu now named Processes (was "Grids").
Panorama, Tangent and Transit: now available with sound-out (natively, mixfile out).
Cell-Patches (beta): run a patch within one cell. (Test version for previously registered users only.)
Full feature due for release in 4.5: should support multiple layers of processes.
Version 4.3 (Feb. 2014-June 2015)
CDP Release 7 functions: all new CDP 7 functions implemented. Menus updated, but not Process Grids (see 4.4 above).
Updated handling of file lengths. Clicking on cell uses stored file-length where possible.
WAVE-EX: "Standard" multi-channel output soundfiles auto-converted to WAVE-EX for playing.
Version 4.2
Patches panel: new Patches drop-down list for easy launching of favourite patches (similar to the Pool and Process lists).
Drag and Drop: support for dragging and dropping most files: new sources, patches, datafiles etc.
Resizable Patchgrid: support for up to 16 rows (representing separate channels or process-chains).
Auto-scale datafiles: option to re-scale times of time-varying files automatically.
Default datafiles: template datafiles covering almost all parameters that need them.
Revised HELP Manual: updated to match Vn. 4.2, including CDP Reference for Spectral processes.
Pop-up Usage: quick access to Usage description for most processes, with full parameter information and ranges.
Process Grids updated for CDP Release 6.
Version 4.1
Multi-channel support: process multi-channel sounds, even where CDP is natively mono. Source file can be replaced with one of a different channel-count; Soundshaper makes necessary adjustments behind the scenes.
Multiple parameter sets: support for different parameter sets per channel, e.g. for panning, pitch, timing and echo effects.

Version 4.0 and 3
Revised design: including new skinned look.
Patchgrid: Support for multiple rows and 12 columns per row.
Run patches with different source sounds, or copy cells and process in different ways.
Auto-conversion: CDP file types are converted automatically using current settings.
Secondary inputs (Infiles 2,3,...): selectable by clicking on the cell required. Soundshaper auto-converts file types.
Import patches: import a single-row patch and link it to the current one. Build larger patches from smaller tested units.
Multi-channel split: split sounds into channels and process these independently as separate process chains.
Full support for CDP 6 functions.
Randomized parameter values: optionally randomize parameter values, within user-defined limits.
Process List: load a list of favourite processes into a drop-down box, for quick access.
Support for Windows 7 and 8.
Multi-row Example
The example below illustrates the use of multiple processing chains:
The source soundfile (A_0) is processed by a spectral process (A_1), then a pitch process (A_2). The conversions (PVOC ANALYSIS and GETPITCH) take place behind the scenes.
MAKE (A_3) requires a formant file; this was selected simply by clicking on cell A_1, whose formants were automatically extracted.
The source (A_0) is copied to Cell B_0 and processed differently in Row B.
Cell B_1 is itself copied to C_1 and is given a slightly different transposition (SPEED).
The three rows are then mixed together in cell A_4 to give a final output, and the whole patch is then saved.